Using the NHS app can make accessing some NHS services easier. This guide aims to help you get set up and familiar with the app...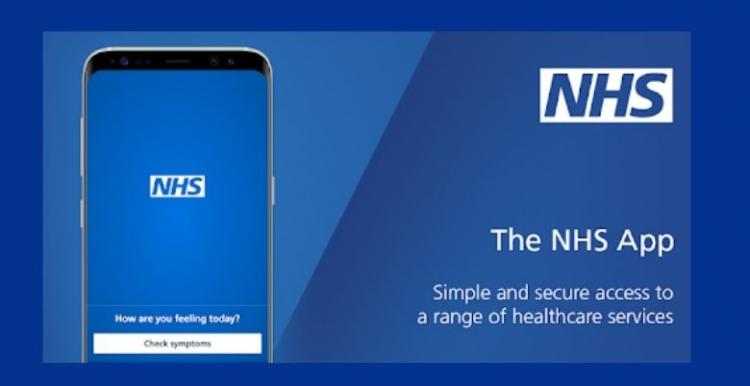 What is the NHS app?
The NHS app is an application that can be downloaded onto your smartphone or tablet for free. Once downloaded, you can then access a range of NHS services via your smartphone or tablet.
Please note that the NHS app is different to the NHS COVID-19 app, which tracks the spread of COVID-19.
The NHS app is available to anyone aged 13 or over who is registered with a GP surgery in England.
What services can be accessed via the app?
You can use the NHS App to:
get your NHS COVID Pass – view and share your COVID Pass for places in England that have chosen to use this service and for travel abroad
get advice about coronavirus – get information about coronavirus and find out what to do if you think you have it
order repeat prescriptions - see your available medicines, request a new repeat prescription and choose a pharmacy for your prescriptions to be sent to
book appointments - search for, book and cancel appointments at your GP surgery, and see details of your upcoming and past appointments
get health advice - search trusted NHS information and advice on hundreds of conditions and treatments. You can also answer questions to get instant advice or medical help near you
view your health record - securely access your GP health record, to see information like your allergies and your current and past medicines. If your GP has given you access to your detailed medical record, you can also see information like test results and details of your consultations
register your organ donation decision - choose to donate some or all of your organs and check your registered decision
find out how the NHS uses your data - choose if data from your health records is shared for research and planning
view your NHS number - your NHS number is a number unique to you that helps NHS staff identify you and your medical records
Other services in the NHS App
If your GP surgery or hospital offers other services in the NHS App, you may be able to:
message your GP surgery or a health professional online
consult a GP or health professional through an online form and get a reply
access health services on behalf of someone you care for
view your hospital and other healthcare appointments
view useful links your doctor or health professional has shared with you
view and manage care plans
Getting started with the NHS app
When you first access the app, you will need to enter your NHS log-in. If you do not have one, you can create one in the app.
What you need to set up an NHS login
You will need:
an email address
a mobile phone number
A 6-digit security code will be sent to your email address and you will need to type this in to the NHS app. After that, a different 6-digit code will be sent to your mobile phone, which you will also need to type in.
Currently, you cannot set up an NHS log-in without a mobile phone.
Once you have an NHS log-in
When you your NHS log-in, you can use this to access the NHS app. You will have to use this each time you enter the app.
Proving your identity in the app
When you first enter the app, you'll see a message on the homepage telling you to prove your identity to get access to all the services the app provides. If you cannot see this message, you already have full access.
You can prove your identity by using photo ID, or by using your GP surgery's online services.
Using photo ID
You will be asked to:
take a photo of your ID
record your face using your device
enter your NHS number if you know it
For guidance on acceptable forms of photo ID, and how to photograph it, please visit the NHS website.
Using your GP surgery's online services
If you are registered for your GP surgery's online services, you will have been given 3 registration details.
The 3 registration details are:
Linkage Key (could be called Passphrase)
O.D.S. Code (could be called Organisation Code or Practice I.D.)
Account I.D.
You can use these 3 registration details to prove who you are instead of using photo ID.
For guidance on registering for your GP's online services and how to find your registration details, please visit the NHS website.