Lived experiences of NHS services a collection of your stories of using services
Our new report shows what Coventry people told us about using NHS services between June and December 2020.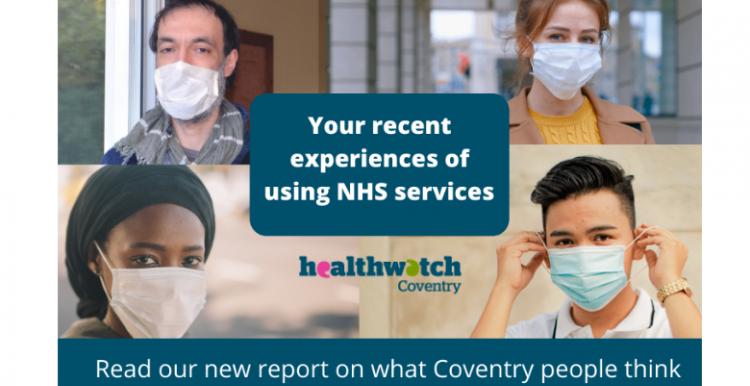 We have published a new report highlighting some experiences of Coventry people who have accessed services such as GPs, dentists and hospital outpatient departments since the first Coronavirus lockdown ended. 
COVID-19 has changed the way many NHS services are delivered and it is important that we understand whether these changes have led to problems or issues for people.
It is particularly important that we listen to the experiences of people who may struggle to access redesigned services and what could help to make access easier. 
This report pulls together, in one place, some of the things you've been telling us. 
Case Study: Alex's experience of the emergency eye clinic
"I had had sore eyes for a while and had used drops suggested by my local pharmacist but this had not helped. So I rang my GP practice and had a phone appointment with a GP. The GP was at first unsure what to do and asked me questions about what my eyes looked like, which were hard to answer. They then consulted with colleagues and then phoned me back to say I should contact the Emergency Eye Department and they should see me based on my symptoms and gave me three phone numbers for the department.
I rang the first phone number in the list and it did not ring, it just cut off. The other two phone numbers were engaged and had no queuing system or any information for the caller. I cycled between trying each number for around 45 minutes until one was answered. 
The person I spoke to was professional and asked questions to try to understand my symptoms. They said I could not be seen face to face as they were only seeing emergencies, such as loss of vision.
The person spent quite lot of time listing different opticians around Coventry I could go to. I was not sure what this was for so I asked and it seemed this was to have an eye test. I then asked specific questions about what I could do to relieve the pain and discharge from my eyes and was given the names of products I could buy. I bought them later that day.
So by the end of the phone conversation I had some useful information but it felt I had worked quite hard to ask questions in order to get this information. I could not keep up with information about opticians and would not have been able to accurately record this during the phone call." 
* name has been changed