Project launches to hear Coventry carers views
We want to hear from unpaid/family carers living in Coventry who have recently used NHS or social care services.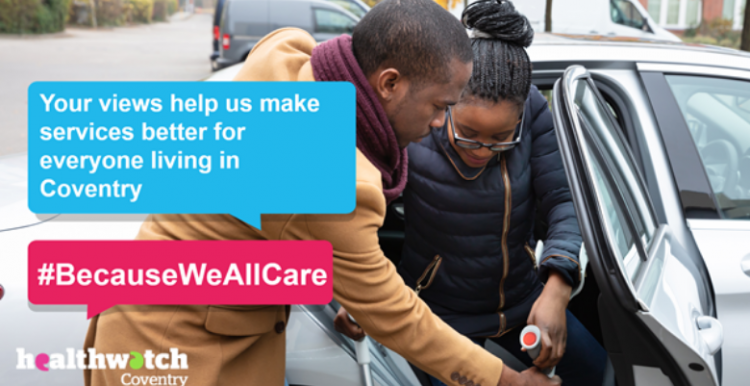 Healthwatch Coventry, and other Healthwatch around England, are collecting the views of upaid/family carers so we can understand experiences of using health and social care services since Covid-19 restrictions began and the impact there has been. This is part of a campaign called Because We All Care.
An estimated 10% of the population of Coventry provide unpaid care to a family member or friend.
If you care for a family member or friend we would like to hear from you about your experiences of NHS and care services as well as those of the person you care for.
To take part please fill in our short, confidential survey 
Carers often have more contact with services because of the needs of the person they care for, as well as for themselves. Since Covid-19 the way in which some services are delivered has changed, and some have stopped running. We want to know what this has meant for you.
What we will do with this information
We will this evidence to produce a report and speak to the people who run and deliver NHS and care services in Coventry, to help them make positive changes for the people of Coventry. We will also share our results with Healthwatch England to help with changes at a national level.
We are also working with the Carers Trust Heart of England to gather in-depth stories from carers that demonstrate the issues and experiences.  
"Coventry has an army of unpaid carers who give their time unconditionally to provide support and care to their loved ones, and even more so during this challenging time of the Covid-19 pandemic. I would like to encourage all carers to take 5 minutes to share your recent experiences of using NHS and social care services. We can collectively influence some positive changes in our local services".