Community testing for Coronavirus has started for Coventry residents
Coventry residents who do not show Covid-19 symptoms (asymptomatic) are now able to get tested.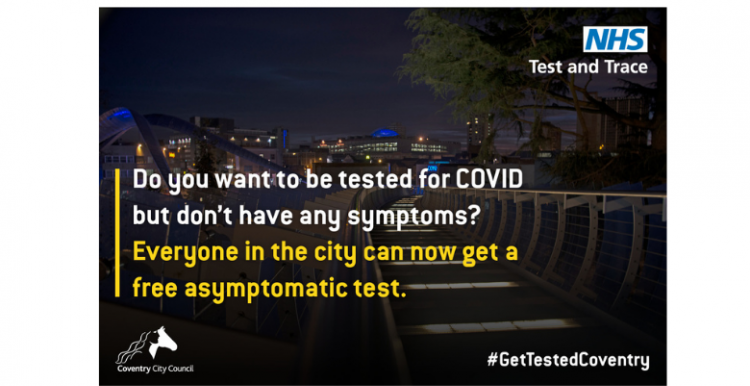 A walk-in centre is to open in Priory Street, close to Coventry Cathedral in the city centre, for anyone who is not showing symptoms of the virus. There is no need to book an appointment.
Anyone with COVID-19 symptoms, should immediately seek a free test in the normal way by calling 119 or visiting www.nhs.uk/coronavirus.
This is a swab test that gives results in less than an hour. It does not need to go to a lab. The test checks if people are infectious, even if they do not have symptoms.
The test involves taking a swab of the inside of the nose and the back of the throat.  People carry out their own swabs and then trained staff will process the result.
People can walk-in for a test from 9am until 5pm from Monday to Friday. The service will be open over Christmas apart from on weekends and Bank Holidays.
Go along for your free test at:
Coventry University's Priory Building, Priory Street, City Centre, CV1 5FJ
(not far from the cathedral steps)
Open Monday-Friday
9am-5pm
Last week, we saw the first vaccinations take place in Coventry and that is great news, but the roll-out will take some time and we still need to do all we can to halt the spread.
Testing is a key weapon in the battle against coronavirus and this week marks a significant step in our city's work to return to a more normal way of life.
                                          Councillor George Duggins, Leader of Coventry City Council