What you need to know when visiting a care home
Take a look at what the latest social care guidance means for visits to and from care homes.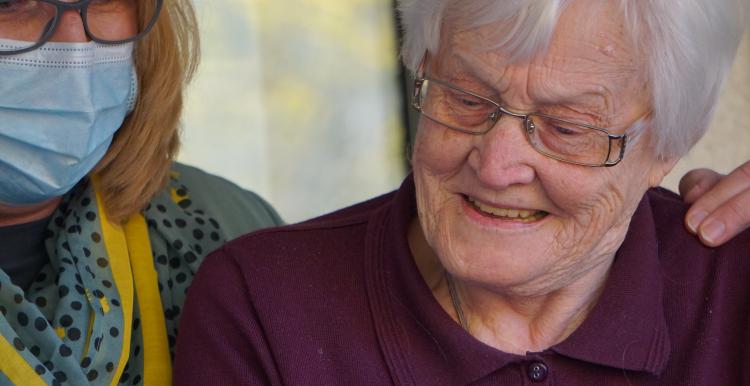 Key recommendations for care homes
The Government has now withdrawn its official guidance on visiting care homes and replaced it with recommendations to help providers keep social care settings safe for staff, residents, and people visiting loved ones.
In most circumstances, there should not be any restrictions on visits into and out of care homes.
Where there is a confirmed COVID-19 outbreak in a care home, residents should be enabled to continue receiving indoor visits from one visitor.
End-of-life visiting should always be supported, and testing is not required for these visits
The guidance makes it clear that contact with relatives and friends is fundamental to care home residents' health and wellbeing and visiting should be encouraged.
There should not normally be any restrictions to visits into or out of the care home. The right to private and family life is a human right protected in law (Article 8 of the European Convention on Human Rights).
Are there any times when I should not visit?
You should not visit a care home if you are feeling unwell, even if they have tested negative for COVID-19, are fully vaccinated and have received their booster.
Transmissible viruses such as flu  and norovirus can be just as dangerous to care home residents as COVID-19.
If you have any symptoms  such as cough, high temperature, diarrhoea or vomiting, they should avoid the care home until at least 5 days after they feel better.
Do I need to wear a face mask?
The guidance is that visitors should be encouraged to wear a face mask when visiting a care home, particularly when moving through the home.
Individual approaches may be needed as the wearing of face masks may cause distress to some residents. In circumstances where wearing a face mask causes distress to a resident, face masks may be removed when the visit is not in a communal area of the care home. 
Do I need to do a COVID test?
The guidance says that visitors no longer need to do a test before visiting, even if they are providing personal care.
NHS and other visiting professionals also no longer need to test on entering a care home.
What happens if a care home resident tests positive or there is an outbreak ?
Each resident should still be able to have one visitor at a time inside the care home. This visitor does not need to be a family member, and could be a volunteer or befriender.
Care home residents with symptoms should take a lateral flow test as soon as they develop symptoms, and if this is negative take another lateral flow test 48 hours after the first test. They should isolate between these tests.
Residents who test positive for COVID-19 on either test should isolate for 10 days and take part in daily lateral flow testing from day 5. They can end self-isolation after receiving 2 consecutive negative tests 24 hours apart, or after 10 days' isolation.
What about care home residents who are contacts of confirmed cases?
Care home residents who are close contacts of a COVID-19 case are no longer advised to isolate  or do additional testing. Instead they should:
minimise contact with the person who has COVID-19
avoid contact with anyone who is at higher risk of severe COVID-19 infection
follow the advice regarding testing and isolation if they develop symptoms of COVID-19
What happens if someone is discharged from hospital into a care home?
The NHS will do a COVID PCR test within 48 hours prior to an individual's discharge to a care home, or a lateral flow test if the individual has tested positive for COVID-19 in the last 90 days.
The test result should be shared with the individual themselves, their key relatives or advocate and the relevant care provider before the discharge takes place.
CQC statement on visiting care homes
The Care Quality Commission (CQC)  is the regulator of care services. They have issued a statement on visiting in care homes and they are asking questions of care homes about their visiting arrangements in the light of this new guidance.
Kate Terroni, Chief Inspector of Adult Social Care at CQC said:
"We continue to seek assurances from care home providers about how they are supporting visiting to happen and we are verifying this information when we go out and inspect and will continue to do so. We have introduced a mandatory question on each of our care home inspections which looks at how visiting is being supported to happen in a safe way."