How to access COVID-19 vaccination
Healthwatch Coventry is your independent champion in health and social care services. On this page we put together useful information about how COVID-19 vaccination is working in Coventry.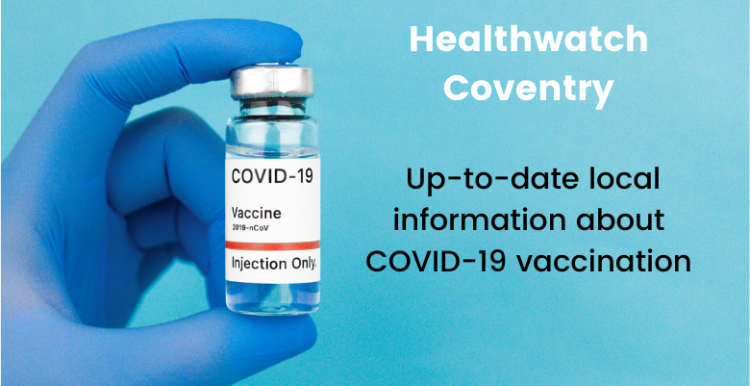 Vaccination for 5-11 year olds
Parents and carers of 5-11 year olds can  book a COVID vaccine for their child.
Most appointments for this age group will be available at local vaccination centres or community pharmacies outside of school hours and are available to book through the online booking service or by calling 119.
---
Booster vaccinations
Spring booster
The NHS will contact those who are eligible to make a spring booster appointment, so you do not need to do anything. The NHS will prioritise those whose clinical need is greatest, starting with those who have had a bigger gap since their last dose.
Those to be offered a spring booster are:
adults aged 75 years and over
residents in a care home for older adults
individuals aged 12 years and over who have a weakened immune system
Who can get a booster
Those aged 16 and over  can book a booster COVID-19 vaccination or get this at a drop in vaccination clinic. You can make your booking from two months (61 days) after your second jab and your booster jab will take place a minimum of 3 months after your second dose.
Immunosupressed People
People aged 16 and over who are severely immunosuppressed can now book their booster online. The online booking system has been updated to allow this.
People who are severely immunosuppressed can get a fourth jab  – at least three months on from their third dose – and are able to book a month in advance of that.
Previously, the NHS contacted people who are eligible for additional doses of the vaccine and GPs and their clinicians were also asked to identify and invite them for their vaccinations.
People who are severely immunosuppressed are also able to access walk-ins across the country, following instructions on the walk-in finder or book a fourth dose appointment online.
How long must I wait before having the booster if I have tested positive for COVID-19?
You should wait 28 days after having a positive text for COVID-19 before going for your booster dose. 
If you have had COVID-19 it is still important you get your booster.
How do I book my booster vaccination?
You have these options:
Book through the national vaccination booking system. Go to the national vaccination booking system website Or you can phone 119. Local vaccination centres available through national booking include 13 community pharmacies in Coventry.
Drop in vaccination clinics are also open for booster doses
The NHS is asking you not to contact your GP practice to inquire about booking a booster but to use the routes above.
Easy read information about Booster vaccines
---
Need help with transport to get to COVID-19 vaccination
There is a scheme which can provide free transport via a local Taxi company.
Referrals need to this scheme must come from organisations and Healthwatch Coventry is one of the organisations that can make a referral.
Get in touch with us via our Information Service 
Drop-in COVID-19 vaccination clinics
For first and second doses and boosters to those eligible, aged 16 and over unless stated otherwise
---
Acorn Pharmacy, Unit 2 Remembrance Rd, Coventry CV3 3DP
Monday- Friday 9am to 1pm and 2pm to 6pm
Saturday  9am to 1pm
---
Allesley Pharmacy, 132-134 Birmingham Rd, Allesley, Coventry   
---
Coventry and North Warwickshire Cricket Club, Binley Road Coventry CV3 1HB
Vaccinating those aged over 12 plus 1st and 2nd doses for 5-11year olds
---
Coventry Community Resource Centre (Express Meds), Red Lane, Coventry CV6 5EE
Vaccinating those aged over 12 years.
---
M W Phllips Chemists, 471 Stoney Stanton Road, Coventry CV6 5EA
For age 18+
Monday - Friday 9am to 1pm & 2pm to 6pm
---
Priory Gate Practice - City of Coventry Health Centre, 2 Stoney Stanton Rd, Coventry CV1 4FS 
---
Ringwood Pharmacy, 200 Wigston Rd, Coventry CV2 2RH
Monday - Wednesday 10am to 5:30pm 

Thursday10am to 12pm
Friday10am to 5:30pm
---
Sikh Family Centre, 35-50 Cross Rd, Coventry CV6 5GU
Age 18+
Saturday 9am to 5pm
Sunday 9am to 4pm
---
More information on drop in vaccination
This national website allows you to search using your post code for nearby drop in vaccination clinic. It shows which vaccines are being used and the people the clinic will vaccinate.
Search for a drop in vaccination clinic using the national website
First and second dose of COVID-19 vaccine
If you have not had your first or second dose of the vaccine you can still have it.
You can book your vaccine slot through the national booking service by visiting the vaccination booking website or phone in 119. Or you can go to a drop in vaccination clinic.
You can have your second dose from 8 weeks after your first dose.
---
Pfizer and Comirnaty
We have received reports of Pfizer vaccines being marked as Comirnaty vaccines on people's vaccination cards. 
This is simply a name change and the vaccine is in no way different. 
The vaccine had been known as the Pfizer-BioNTech COVID-19 Vaccine, and will now be marketed as Comirnaty.
Having a problem getting your vaccination or got a question?
Contact Healthwatch Coventry. We can provide information and our role is to speak up for patients and so we can let the NHS know where something is not working. 
Find out more about vaccination